One Pan Lemon Parmesan Chicken and Asparagus.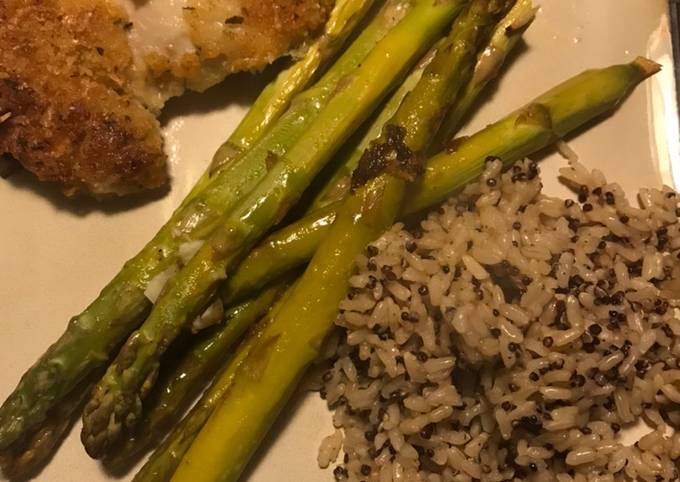 You can have One Pan Lemon Parmesan Chicken and Asparagus using 11 ingredients and 16 steps. Here is how you achieve that.
Ingredients of One Pan Lemon Parmesan Chicken and Asparagus
It's 2 lbs of boneless, skinless chicken thighs, trimmed.
You need 1/3 cup of flour.
You need 1 stick (8 Tbs) of unsalted melted butter, divided.
You need 1 cup of Panko bread crumbs.
It's 1 cup of grated Parmesan cheese.
Prepare of S&P.
You need 2 tsp of garlic powder.
It's 2 Tbs of parsley.
You need 4 cloves of garlic, minced and divided.
It's of Zest and juice of 2 lemons, divided.
Prepare 1 lb of fresh asparagus.
One Pan Lemon Parmesan Chicken and Asparagus step by step
Preheat oven to 400.
Line baking sheet with parchment.
Place flour and S&P in one bowl.
Put 6 Tbs melted butter, 2 cloves garlic, zest and juice of 1 lemon in second bowl.
In a third bowl, combine Panko, Parmesan, S&P, garlic powder and parsley. Blend.
Dredge chicken on each side in flour, then butter mixture, and into Panko mixture.
Place on baking sheet.
Repeat until each piece is coated.
Place pan in oven and bake 15 minutes.
While chicken cooks, trim asparagus.
Melt remaining butter and add remaining garlic and lemon zest and juice and blend.
Coat asparagus with butter mixture.
Flip chicken over so underside and cook.
Add asparagus to pan.
Bake an additional 10-15 minutes or until asparagus is tender-crisp and chicken internal temperature is 165.
When chicken is done, drizzle with remaining butter mixture.