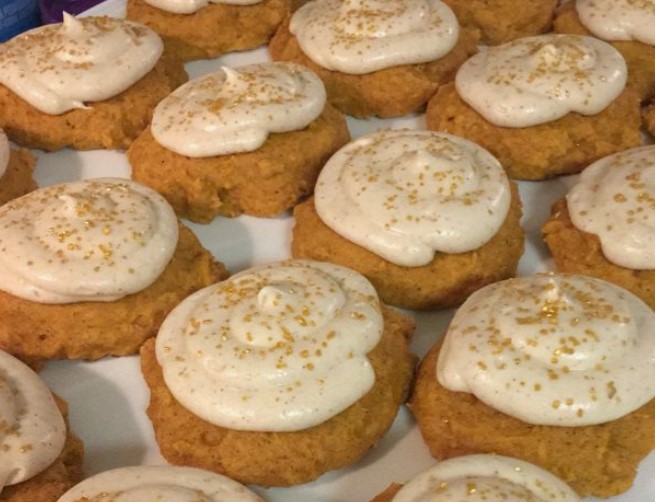 Our Pumpkin Cookies with Cinnamon Cream Cheese Frosting is an old family recipe that only gets better with age (and they taste just like pumpkin pie!)
INGREDIENTS
1/2 Cup Butter (Sweet Cream Salted)
1 Cup Sugar
1 Cup Canned Pumpkin
2 Eggs
4 tsp. Baking Powder
1 tsp. Salt
2 1/2 tsp. Cinnamon
1/2 tsp. Nutmeg
1/4 tsp. Ginger
2 Cups Flour
1 Cup Chopped Walnuts or Pecans (optional)
The Best Cream Cheese Frosting
Cookie Sheets
Parchment Paper
INSTRUCTIONS
PUMPKIN SPICE COOKIES:
In a mixer cream the butter and sugar until light and fluffy.
Add eggs and pumpkin and mix well.
Sift flour, baking powder, salt and spices together and fold into cookie batter.
Mix until well blended.
Drop a spoonful of the cookie batter onto a cookie sheet and flatten slightly with a spoon.
Bake in a 350 degree oven for approximately 12 minutes.
Allow to cool.
Frost with The Best Cream Cheese Frosting or Cinnamon Cream Cheese Frosting.
Sprinkle cinnamon over the frosting.