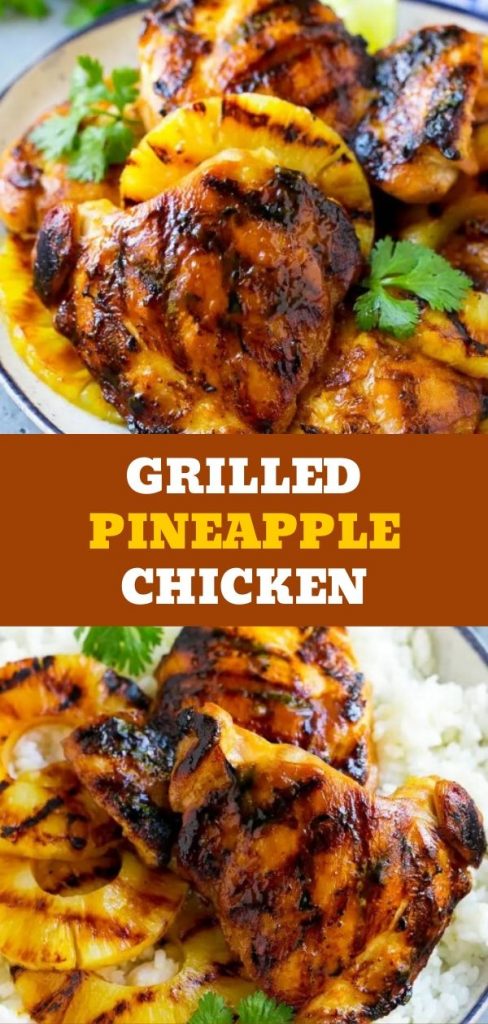 How do you enjoy our summer barbecue so far this summer? This chicken Paleo + Whole30 grilled pineapple is probably my favorite! It has a smoky grill, with a touch of sweetness and pineapple toast … Can it get better? A healthy summer dinner that he never tasted!
HAWAIIAN BBQ CHICKEN MARINADE
The pickled chicken in this recipe tastes like a Hawaiian BBQ sauce. A little smoke and a little sweet, allowing you to lick the excess on your fingers! We use all real food ingredients, unlike sauces and pickles purchased in many stores, dates are our main sweetener, if this is for you, please make them meet the Whole30 standard!
If you've never had a pineapple before, you'll have fun! We like grilling vegetables and fruits in summer. There are some special things. Our favorite roasted fruits include pineapple (clear) and stone fruits such as peaches, nectarines, plums etc. We also tried watermelon, cantaloupe and mango! Seriously, start playing with roasted fruits, you won't regret!
This Paleo + Whole 30 grilled pineapple chicken exudes a smoky barbecue flavor with a hint of sweet and juicy grilled pineapple for a healthy summer dinner!
Print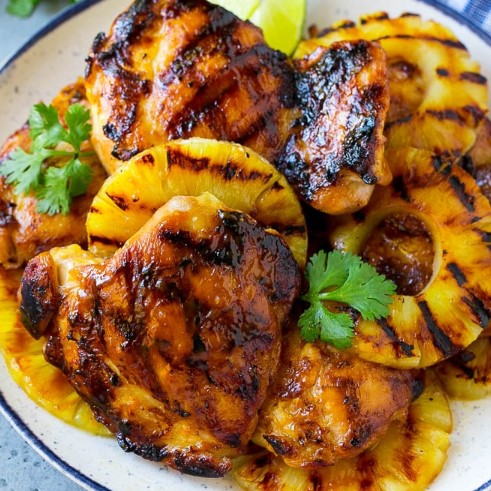 Grilled Pineapple Chicken (Paleo + Whole30)
---
Description
This recipe for Hawaiian chicken is chicken thighs that are flavored with a tropical coconut marinade then grilled to perfection. An easy dinner option that's perfect for entertaining.
---
Scale
Ingredients
For the chicken
1 1/2

pounds boneless skinless chicken thighs

1/4 cup

packed light brown sugar

1/2 cup

light coconut milk

1/4 cup

pineapple juice

1/2 teaspoon

minced garlic

1 cup

pineapple slices fresh or canned

1/4 cup

water

1 teaspoon

sesame oil

1/2 cup

low sodium soy sauce
For the coconut rice
1 1/4 cup

light coconut milk

3/4 teaspoon

kosher salt

1/2 cup

water
cilantro leaves and lime wedges for garnish optional

2 teaspoon

s brown sugar

1 cup

white rice I prefer short grain for this recipe
---
Instructions
For the chicken: Combine the soy sauce, water, brown sugar, garlic, sesame oil, coconut milk and pineapple juice, then pour into a container or resealable bag.
Add the chicken and marinate anywhere from 2-24 hours.
Heat the grill to medium. Remove the chicken from the marinade and grill for 6-7 minutes on each side or until chicken is cooked through.
Add the pineapple to the grill and cook for 2-3 minutes per side. Arrange the pineapple and chicken on a serving plate.
For the rice: Bring the coconut milk and water to a boil. Add in the salt and rice. Cover, reduce heat to low and simmer for 18 minutes. Stir in the brown sugar.
Serve the chicken and pineapple with the coconut rice. Garnish with lime wedges and cilantro if desired.
---
Nutrition
Calories:

568 kcal

Sugar:

20g

Sodium:

743mg

Fat:

15g

Saturated Fat:

8g

Carbohydrates:

65g

Fiber:

1g

Protein:

38g

Cholesterol:

161mg