Alice Springs Chicken is a honey-mustard smothered chicken recipe from the Outback Steakhouse Restaurant! Make it from scratch! Seasoned chicken breasts are topped with a honey mustard sauce, bacon, cheese, and mushrooms if you wish! Simply divine!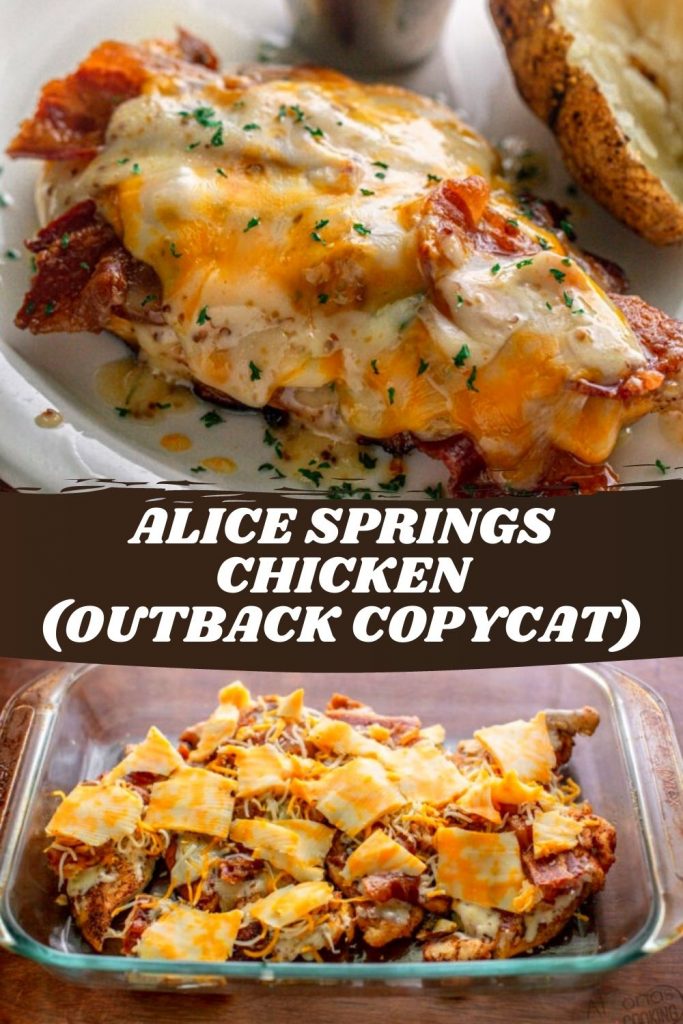 Equipment
non-stick frying pan
9×13 baking dish
Ingredients
Alice Spring's Chicken
4 chicken breasts (horizontally sliced in half)
6 slices of cooked bacon
2 cups Monterey Jack cheese
Honey Mustard Sauce:
1/3 cup mayo
1 Tbsp honey
2 tsp stone-ground mustard
Instructions
How To Make Alice Springs Chicken:
Season both sides of chicken breasts with salt, pepper, and paprika. Brown on both sides in a few tbsp of oil.
Transfer to a 9×13 baking dish.
alice springs chicken casserole
Make the honey mustard sauce and spread it over each chicken breast. Then top with cheese and bacon.
Bake at 350°F for 25-30 minutes. Serve with additional honey mustard sauce.
Notes
Mushrooms- I've omitted the mushrooms, sautee 1 cup of white button mushrooms in 1 tbsp of oil if desired, or use a small can of drained mushrooms.
Quick Meat Tenderizer- marinade chicken breasts with 1 1/2 tsp of baking soda, 2 tbsp vinegar, and 1 tsp salt. Pour in enough cold water to cover the chicken and let sit for 20 minutes. This makes super tender chicken!