Breakfast has never tasted so sweet. This Lemon Blueberry Breakfast Cake, may just make me a morning person. It is so easy to make and has the perfect hint of lemon to it. You will love it.
I love breakfast. I have always loved breakfast. I get so hungry, from all the deep sleeping during the night, that I wake up ready to eat.
Growing up we usually ate cold cereal in the morning, but now I consider cereal my nighttime snack.
This Lemon Blueberry Breakfast Cake has gladly taken it's breakfast spot. It's so easy to make, serves a crowd, and tastes amazing.
I used fresh blueberries, and I am so glad I did. They have such a sweet and fresh taste to them, that you are going to love.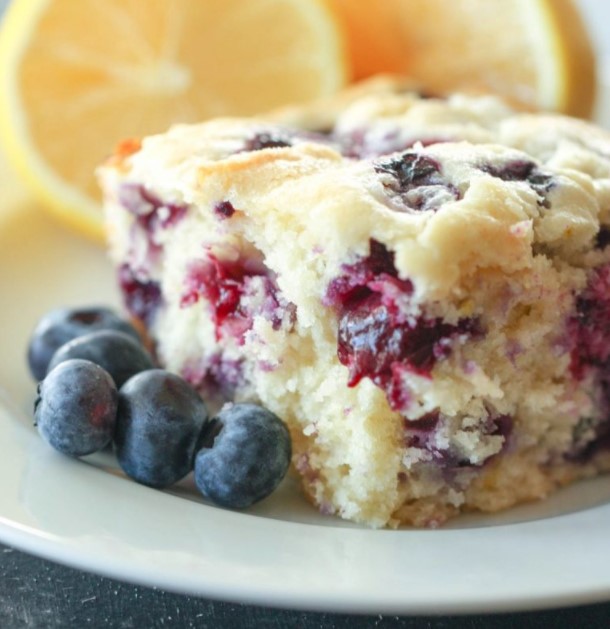 The lemon zest just complements the whole cake, and pairs perfectly with the blueberries. You just need to try it, to understand what I am saying. It is so dang good. It may be the best recipe I have ever made.
Lemon Blueberry Breakfast Cake
10 min Prep Tіmе
35 min Cооk Tіmе
45 mіn Tоtаl Tіmе
Ingredients:
1/2 сuр buttеr
1 lemon (zеѕtеd аnd juісеd)
1 cup ѕugаr
1 еgg
2 tеаѕрооnѕ vаnіllа
2 cups flour (set аѕіdе 1/4 сuр flour fоr thе blueberries)
2 tеаѕрооnѕ bаkіng powder
1 1/2 tеаѕрооnѕ ѕаlt
2/3 сuр buttеrmіlk
2 cups frеѕh bluеbеrrіеѕ
Directions:
Preheat oven to 350 degrees F. Spray a 9×9 inch pan with non stick cooking spray.
With a hand mixer or whisk, combine the butter, lemon zest as well as the juice from the lemon, and sugar until well combined and creamy.
Add your egg and vanilla to the mixture, and continue to mix until all the ingredients are well combined.
Whisk in your flour (reserving 1/4 cup of it for the blueberries), baking powder, and salt, until the wet is fully combined with the dry ingredients.
Mix in the buttermilk with whisk.
In a separate bowl, toss the fresh blueberries with the 1/4 cup flour, until they are all lightly coated.
Fold the blueberries into the batter, until fully combined.
Spread the cake batter into your prepared 9×9 inch pan, evenly.
Place in oven and cook for 35-40 minutes.
Remove from oven and let it cool for about 10 minutes.
Cut and serve.